I Love My Credit Union
In our efforts to spread awareness about credit unions and their purpose we have joined credit unions across the nation in the #ILoveMyCreditUnion campaign. #ILoveMyCreditUnion aims to showcase the greatness of credit unions by coming together and doing a social media blitz.
This year's #ILoveMyCreditUnion day lands on July 29. We will be hosting fun activities at both our main branches so make sure to stop by and show some love.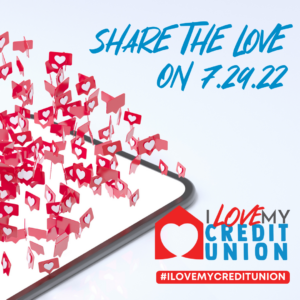 Dedication to Members
Being a co-operative, the Credit Union is collectively owned by all of the people who have accounts. This is drastically different from banks, which have customers and shareholders. While they have to make money from their account holders to pay dividends to their stockholders, we are dedicated to looking out for the financial well-being of our owners.
Any earnings go back to members in the form of lower rates on loans, higher rates on deposit accounts, fewer fees, and investment in services meant to help you achieve financial success. With a credit union, you can be assured that your interests are the biggest priority.
Board of Directors
All credit unions are democratically governed by an elected Board of Directors. The Directors are members of the credit union and volunteer their time as a part of the Board and its committees that oversee the credit union. Each year, members can vote on who sits on the Board, plus hear updates on the health and future of the credit union at the annual Membership Meeting.
Local Investment
Credit Unions are local, community based financial institution and help make sure money stays local. We support our community in a number of ways, including directly investing money and volunteer hours to local events, sponsorships and organizations. We also
Common Bond
Unlike banks, there is a common bond that unites credit union members. For First Financial CU, the bond is our Chicagoland location. Having a shared connection between our account holders makes our community stronger because we experience and value the same things. Whether that be investing in our school systems, cheering on Chicago sports teams, sponsoring movies in the parks, or partnering with local charities. Our staff, board of directors, and entire membership are dedicated to improving the financial health of our families and community.