First Financial Credit Union is a not-for-profit financial cooperative. What does that mean?
What It Means to Be a Financial Cooperative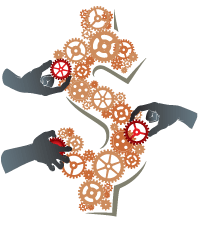 Financial Cooperative (noun): A financial institution that is owned and operated by its members. The goal of a financial cooperative is to act on behalf of a unified group as a banking service. These institutions often pay higher-than-average interest rates on savings accounts and charge lower-than-average rates on loans. They differentiate themselves with above-average service, competitive rates, and fewer fees.

How That Relates To You: It means that a Credit Union, as a financial cooperative, operates to provide its members (the owners) the best possible services at the best possible prices. As a not-for-profit, any 'profit' goes back to our members in the forms of better rates, services, and fees. We're here to make your financial life easier and better!
In 2014 Illinois Credit Union members received $205 million in total member benefits calculated from higher savings yields, lower fees, lower loan rates and savings to non-members. (2014 study by CUNA)
---
What Sets First Financial Credit Union Apart?
80 Years of Serving Members: First Financial CU was formed in 1936 to provide a safe place for employees of the AT&T teletype Corporation to save and borrow money. In 2000, we transitioned to a community charter, allowing us to serve the northern Chicago area. Over the years, FFCU has steadily expanded and grown to become a strong institution serving over 8,000 members and the northern Chicagoland area.
One Part Adaptability, One Part Member Awareness: Our members are more than just numbers, they're all #1! They're also our owners and the people and families we are here to serve. As their needs and the available technology changes, FFCU has introduced new products, services, and education to be able to offer the best "banking" experience possible. No matter what your financial goals are or what stage of life you're in, we will give you the tools and knowledge to be financially successful.
Not for Profit, Not for Charity, but for Service: It's a great business model:
Profit: As a not-for-profit, we return our 'profits' to members in the form of lower loan rates, higher savings rates, and fewer service charges than the typical for-profit financial institution. We're not here to gouge members with fees in order to pay shareholders or owners because our members are our owners.
Charity: Not-for-profit does not mean for-charity. We support our community in multiple ways including student scholarships, event sponsorship, and funding for causes. That being said, we also operate in the most efficient way possible to benefit our members.
Service: It's easy to see, credit unions love their members! We give that 'mom and pop shop' service experience with the updates and technology that members want and need to be financially successful.
Mission Statement: Providing superior financial value with unsurpassed service while maintaining our tradition of stability, trust and security.
Core Values:
Members First – To always place the best interest and welfare of our Members first.

Financial Strength – To never compromise the financial strength and security of the organization.

Ethics – To conduct all activities with honesty and integrity.

Importance of People – To promote the well-being of our members, volunteers, and employees. We are committed to providing the education and resources necessary for success