Auto Center Resources
Buying a vehicle is a major purchase in anyone's life and there are always additional ways to make the process easier. Use the Auto Resource Center as a starting point on your road to the perfect car and the perfect car loan!
---
Enterprise Car Sales
FFCU and Enterprise have partnered to bring you our low auto loan rates, paired with their great auto selection!
Enterprise offers no-haggle pricing so you can avoid unpleasant negotiations. The price you see is what you pay for, and you'll be pleasantly surprised by their prices.
If you change your mind you can return the car within 7 days or 1,000 miles, no questions asked.
All of the trucks, cars, vans and SUVS are hand selected to offer unsurpassed quality and value.
You can get a free vehicle history report from CARFAX, just ask your sale representative.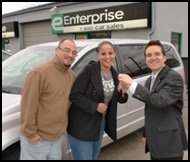 We had a wonderful experience buying our vehicle from Enterprise. There was no hassle whatsoever. They also didn't try to sell us a car we weren't interested in. We plan on buying a second vehicle in the future through them – we definitely recommend them." — Herminio, an FFCCU member
Enterprise Car Sales has 4 locations in the Chicagoland area: Chicago, Aurora, Palatine, and Worth. Mahesh Varadarajan is First Financial's Enterprise Representative and can be contacted at 773-463-0442 or by stopping in at the Enterprise Car Sales location at 3840 N. Western Ave in Chicago.
---
Additional Coverage for Your Vehicle Purchase
Once you've picked out your perfect new vehicle, protect it with additional coverage provided by FFCU.
Mechanical Repair Coverage:
Gives you peace of mind knowing that you're covered from unexpected mechanical breakdowns and repairs not covered by your regular service contract. FFCU offers 4 different plan options so we can match the right coverage to each member. We may be able to offer you better coverage and a lower price than a dealer, so make sure you compare any extended service contract before you buy.
Benefits of the Program:
Protection in both the U.S. and Canada
Rental reimbursement of $30 per day up to 5 days and Towing up to $50
Roadside Reimbursement, Road Hazard Tire Coverage & Trip Interruption up to $75 for 3 days
Transferable Coverage: if you sell your vehicle privately, the coverage can be transferred
Talk to a Loan Officer for complete plan details or to receive a price quote.
Guaranteed Asset Protection (GAP):
Gap is a waiver which pays the difference between your insurance company's actual cash value of your car, less your deductible, and your FFCU loan balance in the event the covered vehicle is stolen, damaged beyond repair, or otherwise declared a total loss.
Why you should consider GAP:
If your car is stolen or totaled, its actual cash value as determined by your insurance company can be thousands less than the amount that remains on your car loan balance which you are obligated to pay
GAP can save you from making loan payments for a vehicle that's beyond repair, stolen or unrecoverable
Coverage can be purchased at any time during the life of an FFCU vehicle loan, for loans up to 72 months, and is completely refundable if cancelled within the first 60 days
GAP is available for both new and used vehicles, including all car makes and models, light trucks, vans, personal watercraft, snowmobiles, ATVs, motorcycles and some small RVs and boats. Talk to a loan officer about Guaranteed Asset Protection for your next vehicle loan or your existing loan.
---
Articles and Calculators
Choosing a Car that you Like and can afford
Going to the Dealer
The Secretary of State Official Website: CyberDriveIllinois
CyberDriveIllinois.com If you need information on how to title and register your newly purchased vehicle, go to CyberDriveIllinois. You can also get information on license plate renewal, safe driver renewal, address changes, and scheduling a CDL appointment.